About Us
MC Glass Art Inc. offers significant and one of a kind collection of fine sculptures in glass by master of glass art Hung Nguyen. We specialize in creating original high quality glass art sculptures, abstract decorations, and custom orders. At MC Glass Art Inc., you will find our unique, high-quality art work, and detail craftsmanship truly is one of a kind and is not duplicated through assembly production. Each piece of art is designed in details, handcrafted entirely by hand, and signed individually by Hung Nguyen.
In addition, MC Glass Art Inc. offers interior designers, architects, art consultants, and corporate clients highly personalized custom orders and exclusive artwork. If you're looking for special orders for your art collection or business, please contact us today and give us an opportunity to create that magnificent piece you're looking for.
MEET HUNG NGUYEN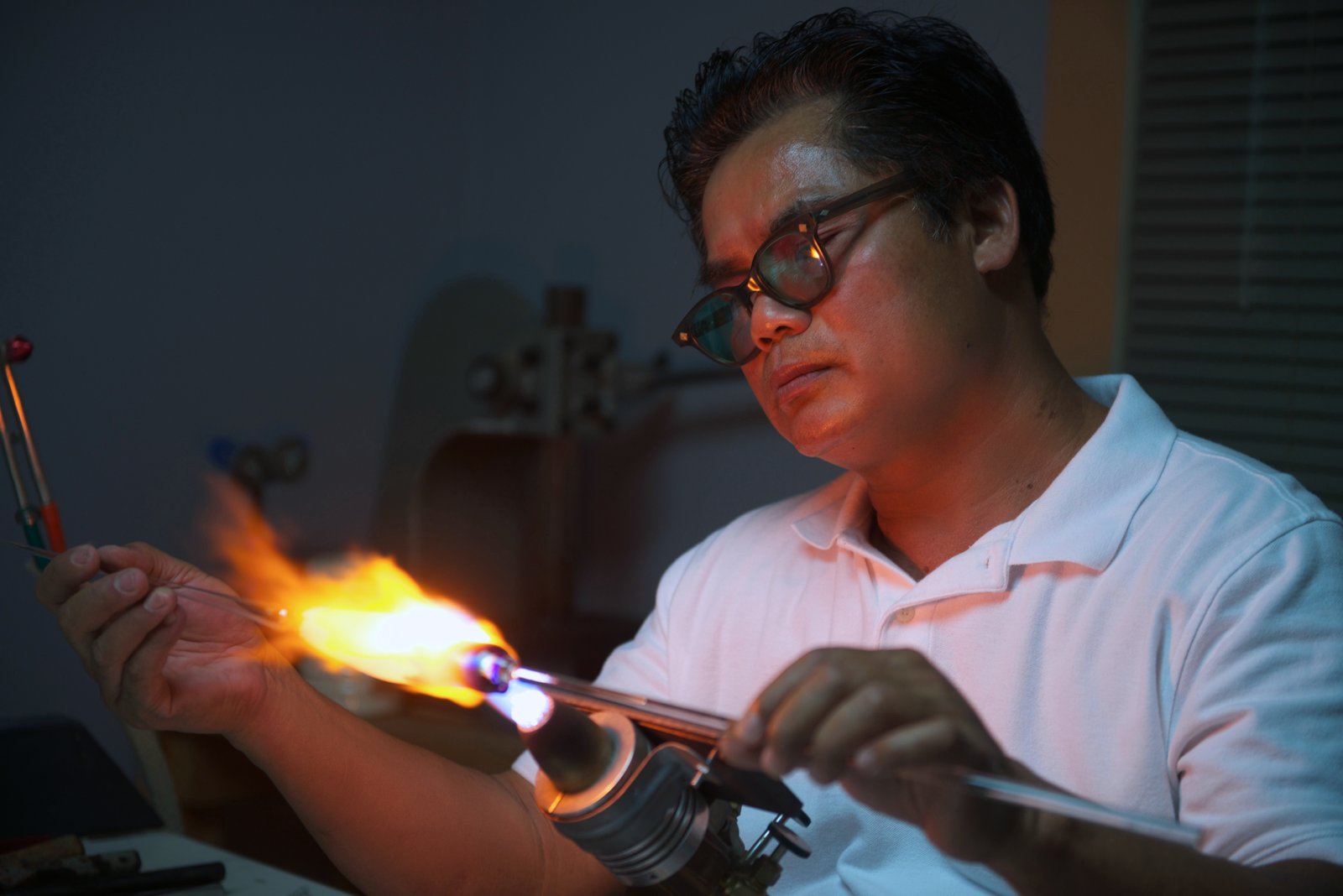 Hung Nguyen was born in Hoa Binh, Vietnam in 1959, at the beginning of the Vietnam war. He is the second child in a family of six. After the war in 1975, the country was left in a turbulent state. At the age of 22, he escaped from Vietnam on dangerous crude and overcrowded boat to seek for freedom and opportunities to express himself through art. He arrived in the United States in 1981 as a refugee.
In 1985, he became a glass sculpture artist and worked along with one of the best international acclaimed Master of glass art, Hans Godo Frabel. Frabel often describes Hung as "…better than I am in large glass sculpting. Nguyen is not only an outstanding glass artist but is also a gifted designer and is responsible for developing several of the more popular designs for the Frabel Studio."
Clearly, Hung developed a natural talent for glass art making and designing. For over 27 years, Nguyen has been recognized for his exceptional skills in creating outstanding glass art pieces and earned him the title of Master of Glass Art. His genuine work of art is in the hands of the world's most famous people such as President George Bush, Mikhail Gorbachev, Sean "Diddy" Combs, Wayne Newton and Larry King.
Hung's passion for the simple elegance and beauty of Georgia's state flowers placed several of his sculptures at exhibition places like the Atlanta Botanical Garden, the University of Georgia State Botanical Garden of Georgia, and McKee Botanical Garden in Vero Beach, Florida. In addition, his abstract and creative sculptures landed him opportunity to place his intrepid glass sculptures on Crystal Fox Gallery as well as to create custom excellence award for many companies.
A few words from the heart by Hung Nguyen:
"I love the art of glass making the very first moment I saw it. I can see through it clearly that this is what I want to do for the rest of my life, to create beautiful glass art that people can appreciate and enjoy." – Hung Nguyen